The Academy aims to exchange knowledge about the field of legislation beyond their national borders. We have participated in international seminars and training programmes organized by international partner organisations, ranging from a two day seminar to a two week programme for different legal professionals around the world. Programmes have been developed for Surinam, Aruba, Sint Maarten and Indonesia.
International co-operations
Center of International Legal Cooperation (CILC)
CILC is a Dutch not for profit organisation, based in The Hague that supports justice reform processes and facilitates international legal cooperation. The mission of CILC is to promote the rule of law worldwide by initiating and implementing international cooperation projects. CILC shares the Netherlands' experience in the legal sector and creates partnerships between Dutch and partner countries' legal institutions and organisations.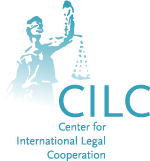 International Association of Legislation (IAL)
The Academy is working together with the International Association of Legislation (IAL). The IAL provides a platform for exchange of knowledge and experience of professionals and scholars in the field of legislation worldwide. The secretariat of the IAL is now located at the Academy. The rector of the Academy is a member of the Advisory Board of the Association.

Korean Legal Research Institute (KLRI)
The Korean Legal Research Institute decided itself to training and to legislative research to serve advice to the Korean government. In continuation of the contacts with the Netherlands and especially the Academy of Legislation we are a cooperation agreement with the Korean Institute entered.
The journal The theory and practice of Legislation
The journal The theory and practice of legislation (voorheen Legisprudence) provides an international and interdisciplinair forum for research about legislation. The Academy is closely intertwined with the establishment of expenditure of the journal and is also the editor's address. Pauline Westerman, program manager at the Academy, participates in the editorial. Besides that the rector and Nico Florin, also program manager at the Academy, sometimes supply a contribution in the form of an article or a review.